November Policy News
As 'conference season' comes to a close, there were two items of policy news that have the sector buzzing!

1. Rural Health Commissioner announced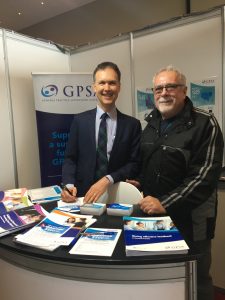 The announcement of Australia's first National Rural Health Commissioner came at the RMA17 conference.
Emertius Professor Paul Worley was a popular and well-received choice as the man to take up this new and challenging role.
Emeritus Professor Worley currently runs a rural practice in South Australia. He was, until the recent shake-up at Flinders University, Dean of Medicine for 10 years. Professor Worley is
also currently Executive Director Medical Services with Country Health SA Local Health Network.
New GPSA Board member, Dr Frank Maldari, wasted no time in being among the first to congratulate Emeritus Professor Worley along with fellow South Australian and GPSA Board Chair, Dr Steve Holmes and RDAA President Dr Ewan McPhee.
South Australia is becoming quite a hub in the general practice sector!
GPSA congratulates Professor Worley and looks forward to working with him over the coming years. Among his first challenges will be establishing the National Rural Generalist Pathway.
2. GP Training to be college led
The second bit of policy news came as a bombshell to many in the audience at GP17.
The Hon Greg Hunt, Minister for Health announced the return of GP training to the colleges.
The announcement caught many stakeholders by surprise but the overwhelming response has been positive.
Of course, a lot of uncertainty remains but here's what we do know: 'General practice training is back with the RACGP, where it should always have been,' he said during his keynote address.
 A transitional period will commence from January 2019 – December 2021 before the RACGP and Australian College of Rural and Remote Medicine (ACRRM) resume delivery of training, encompassing the Australian General Practice Training (AGPT), from January 2022.
There endeth the certainty!
There will be a lot more detail to come but it is the biggest news in GP training since, well, since the last one in the 2014 budget when 17 RTPs were reduced to 9 RTOs.
It also takes training (or at least the funding of it) back to the colleges from whence it was removed back in 2001 with the formation of GPET.
Back to the future! Except that in the intervening years, we have seen the establishment of Regional Training Organisations.
So the funding for training goes back to the colleges – it remains to be seen how each college will deliver its training – directly or through the RTOs.
It is understood that the RACGP has given assurances that training delivery through RTOs is central to its model.
Watch this space!